21 Mar

The Art Along a Roadway
March 21, 2021
At the corner of Gartman and Hanson Roads resides a home with a blue roof and a green yardlight.  From its second story you can see the farmlands, the grazing horses behind white fences and enough of Highway 17 to know of civilization.  Or so I imagine.
My apologies and my gratitude to whomever owns the property.  Apologies for my need to photograph the home.  Gratitude for its existence. The real story of the home would probably be nowhere near my imagination of it, but that story is not mine to tell.
Being a passerby, I decided, was perfect justification.  How many times would I drive by, smiling everytime I saw its blue roof?  I think decades worth of times.
In the past I had only daydreamed of what it might be like to stop.  On this particular day, the morning contained no grand inspiration.  My mind held no problems or worries as I drove the commute to work.  There was nothing extraordinary to the day.  As I drove past the home, I glanced with a hesitation only so slight.  My radio blared and my Jeep sailed north along Highway 17.
"Stop, Steph. Stop."
"No, that would be strange. I do not want to cause harm," I reasoned. "No, I do not want to be intrusive."
I reasoned myself right out of stopping.
The Art of Home.
All day my head held that passerby view of someone's home.  I wondered why I did not stop, hoping that it would still be standing.  "Next time," I promised myself.
The next trip northward, I stopped.  As I snapped photos, I never ventured off the road.  This building was someones home.  Whether or not they still lived there, the home stood.  There was a reason that I should never know.
I, however, had my reasons for stopping.  Reasons for imagining.  What were snowstorms, to look out that second story window?  What was a rainstorm, to hear upon its roof?  Someone had decided to build a home here, here in the northeastern corner of Lincoln County Wisconsin.  While the roofing might not be original, the siding certainly is.  Its builder would have needed many of the fine, thin boards which still graced its exterior.  Despite the weather's devouring of the roof, the sides remain standing straight.
Someone had looked out the large, once paned window which surely must have allowed the sun to shine upon an oil-clothed, kitchen dining table.  In the brutal below zeros of Wisconsin winters, the house had warmed the hands of one who held a shovel.  And in the hottest, most humid of summers, I hoped someone had made window-brewed ice tea.
Among the hills and patchwork of lakes, someone had decided to build this home.  Nestled among blackberry bushes where bears roam with their bear families, it guards an intersection of roads named after local families.  How many autumn deer hunts were hosted here?  How many times did someone share a midnight beer?
I hope the answer is "many', although I only imagine it to be so.
The Art of a River and Roadsters.
The Prairie River.
That same highway drives through woodlands and farmlands in almost equal proportion until one crosses into the next county.  The rolling hills sprout with the thanksgiving of spring.  Impatient motorcyclists board their metallic steeds.  Sap gathering bags dot forests of maple trees.  The last of logging trucks load their freight for sawmills.
Spring for the Prairie River is no exception.  Through the years, humankind has dammed it, then undammed it.  We have fished it, then left it alone.  We have built it up with parks and bridges, then we have abandoned them.  Despite humankind, springtime dances through the waters of this river.  Its current has already nibbled away at its icy shelter.  There are spots where barely a trickle runs through overgrown farmland and the distant memories of its past shoreline.  Other spots, with a lovely, if not slightly hazardous rapids, seem to pop up with the run-off of melting snows.  Not quite blue with life, its waters are dark yet with winter sleepiness.  One wonders where the trout have hidden during the coldest of months.
The Romance of Roadsters.
The weather is barely warm enough for those summertime automobiles to grace the roadways.  Somehow, I associate the pleasure of springtime drives of an open highway with the view of rivers and the majesty of finely engineered vehicles.  I did not find any roadsters, but I did eyeball a couple glorious trucks.  Glamorous and beautiful in the rust of their age, they have stood outside an auto dealership ever since I can remember.  The dealership too, has long been retired.  They stand now, slight and stoic, reddened with the romance of a race they had exhausted and won.  I could imagine them, decades ago, fighting their way through snow drifted backroads, perhaps even delivering wood to a certain home northward, on Highway 17.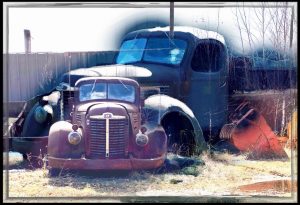 Handsome trucks.
The Art of Spring.
I have never loved spring as I do now.  Perhaps that is the beauty of my own aging.  The thawing earth empowers growth in a cycle as numerous as the years which number our lives.  Trees get to test the buds they have hung unto since the leaves of last season left their branches.  Eagles gather at the river's edge.  Robins return.
And one can embrace whichever road they find themselves upon…
May your spring be filled with lovely art…
And may your spirit be filled with love.
Blessings, love and art to you!
Stephanie, of Winds Paradox.