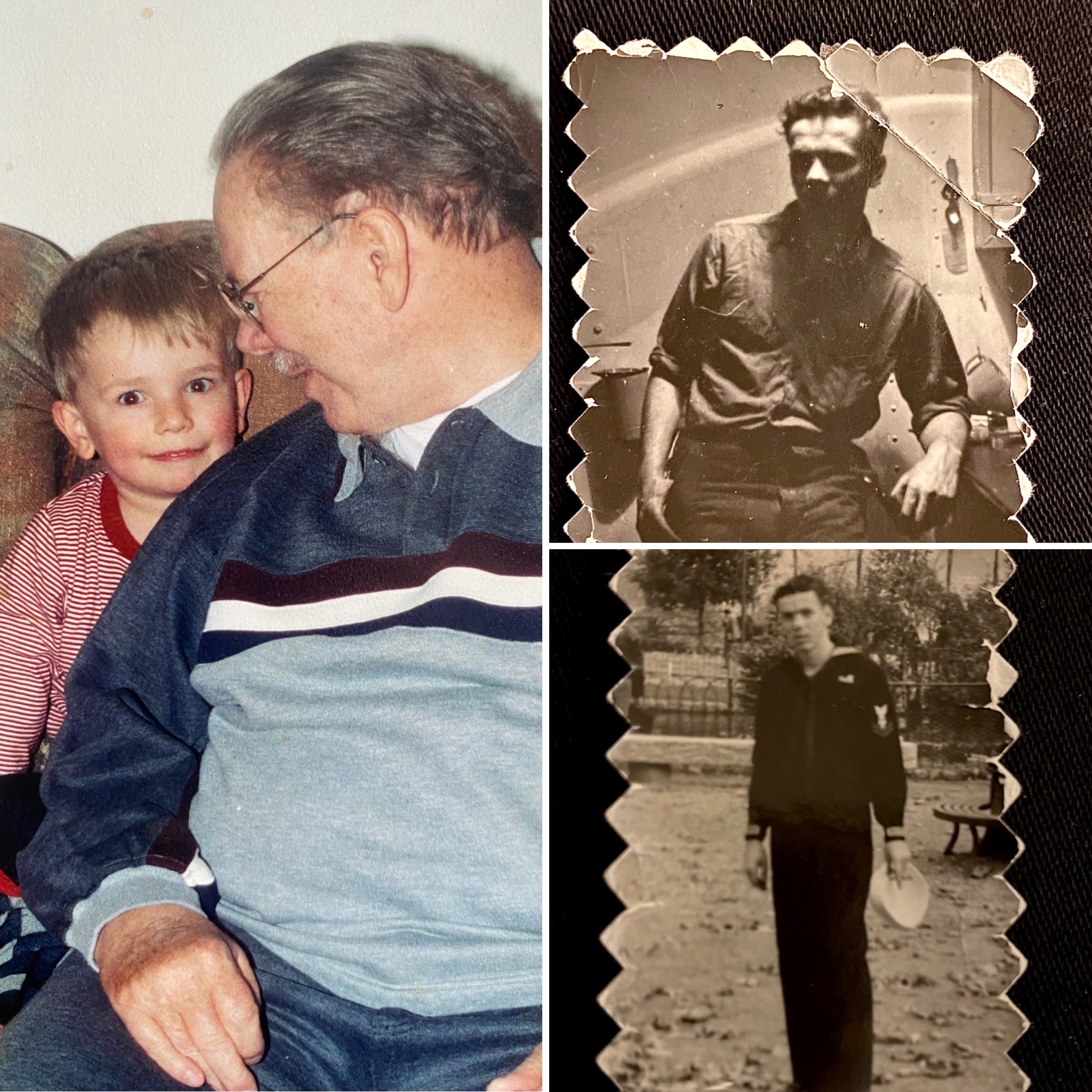 03 Apr

A Memory Tucked

Sunday, April 3, 2022. Happy Sunday! I can think of no better way to share art than to also include a sharing of those who influence.

A Memory Tucked

Ten year ago today my father passed. I imagine still our conversations both as they had been and what they would be like today. I imagine his advice. I smile with tears at the thought. Happy Sunday. With lovely memories… Stephanie.
A Memory Tucked
I am unsure if the practice is subscribed to the entirety of human species or only gender or age specific. Not sure at all. But my mother revealed two photos of my father which I had never seen before. Like many of us lucky enough to possess things (or, unlucky I guess one could also say), springtime urges a person to clean. The longer daytime means longer spans of time with natural lighting even on the cloudiest of days. Longer days translate to longer projects. And to clean is the best of home projects! My mother is no exception. And as purse-wearers will attest, a person needs to clean even the most personal, daily accompaniments. But the practice to which I was referring is the memory tuck. My mother did not have a mini-photo album nor a locket. The photos were not placed within a wallet's photo sleeve. "Wait," she smiled as she grabbed her checkbook. "I want to show you something." Within the typical checkbook are the flaps for sliding the cover of the register and the back of the book of checks. There is a clear plastic rectangle to provide sturdiness when completing a handwritten check. And I guess there are other flaps for identification cards and whatever else a person might slide there. But there is usually one extra flap that a person wonders why on earth it was created. In my mother's case, she had placed two photos of my father. "Here," she spoke softly with love. "Your papa."
Now, as a pause, both my parents carried or still carry photos of my brother and I and their grandchild. My fathers wallet remains the same as the day he last carried it. And I know my mother keeps the standard family photos in hers. As she said those words she dug in that extra checkbook flap of leather. Her fingers produced two photos. Both were black and white, approximately an inch by an inch and one-half, with serrated edges. Both were Navy photos from the early 1950's. One showed him in Cuba; the other, onboard the ship. She thought it wonderful I could preserve them with some quality by photographing them.
After talking about my father and me showing her the shots I had taken, she carefully returned the photos to their spot. She tucked them between a fold and flap, in this mysterious spot which only she had known. Ten years ago today, April 3, my father passed away. I possess a super memory which as his daughter provides me with an abundance of comfort. Admittedly there are times when my imagination tuckpoints the gaps between the brick layers of true past experience and the challenges of today. What would he have to say? If I could visit him today, he would smile to see me, calling me out by his nickname for me. "How is my grandson?" he would begin.
After we would run through the list of family members, I would talk to him about life. "I am writing. I am taking pictures. Want to see?" He would smile. And I believe I know which one he would like. "What are you writing?" (Excuse me for a moment, Tears.I never realized until now that he would lock on the topic of writing. Nor did I realize that after ten years it might still matter to me). No matter what I would say he would probably tease me about possible subject matter from my own experiences. He might even tell me about one of his favorite books. Or, he might not. He would listen thoughtfully, his forefinger pressed to his lips. "Let me see that picture again," he would ask. "Hmm. Where was this?"
And we talk in a rolling conversation about the picture and of what it reminded him. I would like to think he would offer me advice or direction. I know he would expect truth even if it was truth only to the story itself. "Make it beautiful," I could imagine his instructions. I want to imagine those words from him, but I do not believe he would say them. It would be an expectation. "Make it good."